12 Best Business News Podcasts That Are Worth Your Time
Looking for business news podcasts to keep up to date with the latest news stories from the world of business? You've come to the right place.
In this article, we'll reveal 12 of the best business news podcasts. If you'd like to learn more about the global economy and keep your pulse on the latest financial and business news stories from around the world, make sure you subscribe to the podcasts listed here.
Let's dive right in.
Top 12 Business News Podcasts
WSJ's podcast, simply called The Journal, covers top news stories from a business perspective. Hosted by Kate Linebaugh and Ryan Knutson, new episodes are released every day on weekdays and each episode is usually under 20 minutes.
The podcast does a great job breaking down complex topics and making them easy to understand. If you want to stay informed about the latest news, trends, and happenings in the business world, this podcast should definitely be on your radar.
The most recent episodes on the show explored Netflix's new advertising model, the demise of CNN+, and Sri Lanka's economic crisis.
Listen on: Apple Podcasts | Spotify | Website
Vox Media's Pivot is one of the most popular business news podcasts on the web. If you don't mind a bit of banter between the hosts while getting your news, then this podcast is highly recommended.
On Tuesdays and Fridays, tech journalist Kara Swisher and NYU Professor Scott Galloway provide insights into the biggest stories in tech, business, and politics. They offer their unfiltered thoughts on what's going on in these industries and what the implications are for those involved.
Listen on: Apple Podcasts | Spotify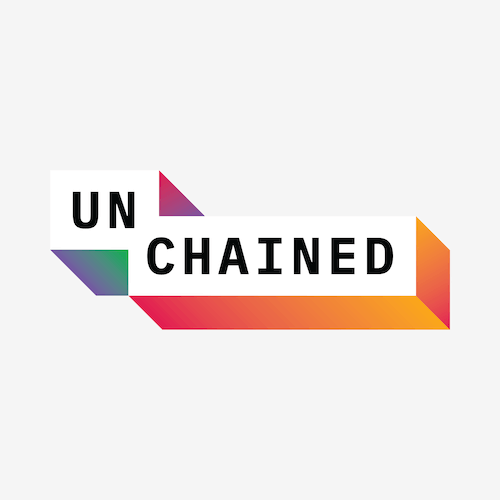 Unchained is a weekly cryptocurrency podcast hosted by author and crypto journalist Laura Shin. Laura was the first mainstream reporter to cover blockchain full-time at Forbes. She recently published her book The Cryptonians, which chronicles the origin story of Ethereum.
If you're seeking no-nonsense takes on the breaking news stories in the cryptosphere, Laura's podcast is definitely worth checking out. Unchained delivers the most up-to-date information and insights on the top crypto stories of the week. In addition, the show also features interviews with thought leaders, crypto entrepreneurs, and industry insiders.
Notable guests on the show have included Ethereum founder Vitalik Buterin, Binance CEO Changpeng Zhao, and Social Capital CEO Chamath Palihapitiya. Recent episodes on the podcast explored Tornado Cash sanctions, the impact of inflation on crypto, and bitcoin adoption in El Salvador.
Listen on: Apple Podcasts | Spotify | Website | YouTube
Recommended reading: 22 Best Cryptocurrency Podcasts
Launched in 2008, Planet Money is one of the longest-running business and finance podcasts on the internet. The podcast aims to make economic journalism accessible to anyone who's interested in learning more about microeconomics and macroeconomics without having an academic background in economics.
When it was first launched, the podcast covered the financial crisis of 2007-08. Fast forward to today, the podcast has over 1000 episodes tackling complex economic issues like inflation, insider trading, blockchain, and more. If you'd like to expand your knowledge of economics and learn various economic mental models along the way, this podcast is for you.
Listen on: Apple Podcasts | Spotify | Website
In addition to co-hosting Pivot (see #2), Scott Galloway also has his own weekly podcast where he answers questions from listeners on who's winning and losing in the world of business.
An offshoot of his popular weekly business newsletter No Mercy / No Malice, this podcast offers you insights to help you thrive at work. From time to time, Galloway also invites other professors, practitioners, and entrepreneurs on his podcast to contribute ideas and opinions on trending business news stories from around the world.
Listen on: Apple Podcasts | Spotify
A spin-off of the hugely popular Business Wars podcast, Business Wars Daily offers an inside look at some of today's most controversial disputes and surprising business stories. In addition, you'll get a quick update on all the business rivalries covered on Business Wars.
Recent episodes covered IKEA's new business model, Netflix's crackdown on password-sharing, and the rapid growth of BeReal, the "anti-Instagram" app.
Listen on: Apple Podcasts | Spotify | Website
Recommended reading: 10 Most Entertaining Business Podcasts
Peter Schiff is a well-known economist and financial commentator. In 2009, he earned the name "Dr. Doom" for correctly predicting the 2008 financial crisis and the subsequent economic collapse. In recent times, he's been vocal about his bearish sentiments on bitcoin and how it resembles the tunic mania bubble of the 17th century.
If you'd like to learn about key macroeconomic concepts and don't mind the occasional contrarian viewpoints about bitcoin, then Peter Schiff's podcast is guaranteed to provide you some useful takeaways.
Listen on: Apple Podcasts | Spotify
CoinDesk is the most popular cryptocurrency news site on the web. While they have several podcasts on their network, CoinDesk Podcast Network is their flagship business news podcast that covers the most valuable crypto news stories.
Recent episodes of the podcast covered the latest crypto regulations in the wake of crypto winter, reflections on Tornado Cash sanctions, and the future of bitcoin energy.
Listen on: Apple Podcasts | Spotify | Website
The second WSJ podcast on this list, What's News brings you the headlines and business news that move markets and the world — twice every weekday. In 10-12 minutes, you'll get a breakdown of the best WSJ scoops and exclusives, with insight and analysis from hosts Annmarie Fertoli and Luke Vargas.
Recent episodes discussed China's economic slowdown and its impact on the global economy and the implications of Disney's recent earnings on the streaming war.
Listen on: Apple Podcasts | Spotify
Money Talks is a weekly business news podcast by the Economist where its top editors and correspondents share their thoughts on the markets, the economy, and the world of business.
This podcast has been a long time favorite amongst business leaders and entrepreneurs. If you'd like to tune in to a podcast that deconstructs the big themes in markets, business, and the economy, you'll enjoy the thought-provoking conversations on this show.
Recent episodes explored Britain's growth crisis, crypto regulations, and the impact of rising commodity prices and higher interest rates on fragile economies.
Listen on: Apple Podcasts | Spotify
Looking to stay informed about the latest happenings in the world of blockchain and cryptocurrency? Then you need to tune in to Crypto News Alerts.
This daily cryptocurrency podcast covers the latest breaking stories and predictions surrounding bitcoin, ethereum, and other popular cryptocurrencies. Whether you're a beginner or a seasoned crypto investor, this podcast is a must-listen.
Listen on: Apple Podcasts | Spotify
12. Marketplace
Hosted by Kai Ryssdal, Marketplace is a daily podcast that provides insights on the most pressing business and economic news of the day.
Ryssdal has decades of experience in radio journalism and is knowledgeable about the topics he covers on the podcast. As such, if you'd like a nuanced take on the top business news stories of the day and understand the implications of economic policies on your business, this business news podcast is well worth your time.
Listen on: Apple Podcasts | Spotify
Conclusion
That wraps up my list of best business news podcasts that are definitely worth checking out. Did I miss out on any of your favorite business news podcasts? Let me know in the comments section below.
Editor's Note: This article was first published on 19 August 2022 and has been updated regularly since then for relevance and comprehensiveness.
Related Articles
link