How Alberta is missing out on the oil boom
Investors have made a bundle on soaring oil prices — Albertans not so much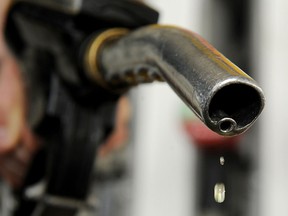 Article content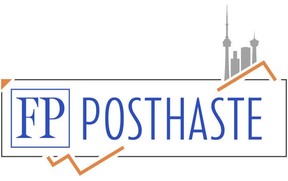 Good Morning!
Article content
Canadian oil companies have raked in record revenues over the past few years as the price of crude climbed — yet Albertans might be wondering, where's the boom?
The value of oil produced in Canada's energy hub has averaged about $12 billion a month since the beginning of 2022, 75 per cent higher than in the last Canadian oil boom in 2014, writes Charles St-Arnaud, chief economist at Alberta Central.
Yet despite that, the province is not experiencing the economic benefits that it did in the late 2000s and mid 2010.
Alberta started outperforming the rest of the country on business investment in the 2000s when oil prices rose above $30 a barrel, says St-Arnaud. A further surge that began in 2004 boosted investment even more.
Article content
As higher prices made the oilsands economically feasible, producers ramped up investment there.
Between 2005 and 2014 the natural resource extraction sector gained 43,000 jobs and construction added 91,000 jobs. Employment in the professional, scientific and technical sector grew by 60,000, all related to the increase in oil investment, said St-Arnaud. Combined it represented more than 40 per cent of total job creations in the province over that period.
The hiring blitz led to labour shortages that spread to other sectors, pushing up wages faster than in the rest of the country.
But this time is different.
St-Arnaud and the economists at Alberta Central, who have identified the decline in the so-called "Alberta Advantage" in past studies, now think they have the answer why.
Article content
Less of that oil money is staying in the province.
The energy transition away from fossil fuels has led to predictions that oil demand will peak in 2030, discouraging producers from investing in new production.
Instead, oil companies have returned a greater share of their revenues to shareholders through dividends and share buybacks. Today about 13 per cent of revenues are returned to shareholders, compared with 3 per cent in 2014. Moreover, 75 per cent of shareholders are foreigners so most of the payouts are leaving the country, said St-Arnaud.
Oil producers are also reinvesting a smaller share of revenues in operations, 7 per cent compared with 25 per cent in 2014. The type of investment has changed as well and is now targeted more to efficiency gains, rather than to new projects that create jobs.
Article content
The province's wages and income still remain higher than the rest of the country, but the Alberta Advantage is shrinking, said St-Arnaud.
Average wages that were 16 per cent higher the national average in 2015 are 4 per cent higher. Disposable income that used to be 34 per cent above the rest of the country is now about 11 per cent higher.
"The link between the Alberta Advantage and investment cycle could have some important implications for the Alberta economy," said St-Arnaud.
"The recent trend suggests that the current weakness of investment in the oil and gas sector, despite record levels of revenue, should be a source of concern.
"It means that the current underperformance in wages and income growth in Alberta is likely to continue unless oil producers decide to reinvest a greater share of their revenues into their operations."
Article content
There are positives. With growth less dependent on the energy sector, the province is more sheltered from the volatility of oil prices. A smaller boom means a smaller bust when oil prices tank.
And there is hope on the horizon. An increase in investment to reach to net-zero emissions in coming years could help to restore some of the Alberta Advantage, said St-Arnaud.
"Such an outcome would dramatically change the discussion around the costs associated with reaching net zero to the potential benefits in the form of increased prosperity, as well as future-proofing some of our key current and future industries," he said.
Going green might be the driver of Alberta's next boom.
_____________________________________________________________
Article content
Was this newsletter forwarded to you? Sign up here to get it delivered to your inbox.
_____________________________________________________________________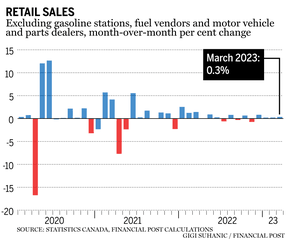 Canadian shoppers are starting to show signs of fatigue, economists say, after data out May 19 showed retail sales fell 1.4 per cent in March. Auto sales suffered the biggest drop, down 4.4 per cent in the first decline in eight months. Stripping out this category and gasoline, core retail sales rose 0.3 per cent.
"While March's decline in retail sales was no worse than anticipated, and was driven largely by volatility in auto and gasoline sales, slight cracks are starting to show within Canadian consumer spending," said CIBC economist Andrew Grantham in a note on the data.
Article content
The volume of sales fell 1 per cent, and when combined with a decline in February, reverse the gain in January, he said.
Grantham says weaker sales are perhaps a sign that the Bank of Canada just needs more patience, rather than more interest rate hikes.
"That said, if the labour market doesn't start to loosen, a further rate hike can't be ruled out, and the cuts that we are forecasting in 2024 could come slightly later than we were previously forecasting," he wrote.

The focus this week will be on debt ceiling negotiations going on in Washington. It is the last full week in which to strike a deal and have enough time to pass votes in the House of Representatives and the Senate before Treasury Secretary Janet Yellen's deadline of June 1. President Joe Biden and House Speaker Kevin McCarthy did not reach an agreement Monday, but vowed to keep talking.
In Canada, big bank earnings start on Wednesday.
BlackBerry is to hold an investor event today with Mattias Eriksson, president of BlackBerry IoT, and John Giamatteo, president of BlackBerry Cybersecurity, taking questions. The company announced a review of strategic alternatives earlier this month that could see it break up its operations.
Today's Data: Canada's industrial product and raw materials price indices, S&P Global PMIs, U.S. new home sales
Earnings: Lowe's Cos
Article content
___________________________________________________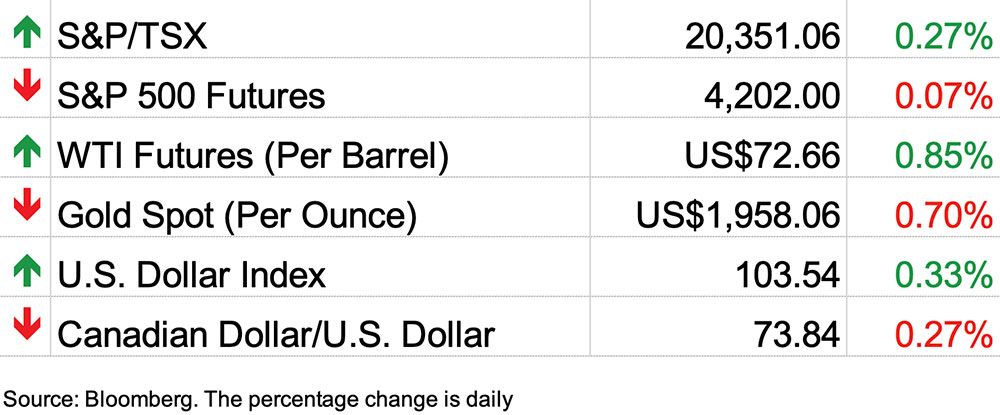 _______________________________________________________



Think interest rates are bad in Canada? How about the 97-per-cent rate in Argentina, which is trying to combat triple-digit inflation. Veteran investor and one-time economics student Peter Hodson looks at five countries suffering various maladies and offers five economics lessons for investors being played out in real time.
Albertans hit hardest by inflation as 'Alberta advantage' melts away

Canadian oil is the world's top choice, global ranking shows
____________________________________________________
Today's Posthaste was written by Pamela Heaven, @pamheaven, with additional reporting from The Canadian Press, Thomson Reuters and Bloomberg.
Have a story idea, pitch, embargoed report, or a suggestion for this newsletter? Email us at [email protected], or hit reply to send us a note.

link