Junior lawyer by day, army commander by night (and some weekends)
Veterans are everywhere, not just on the frontlines: Adam West is one of many part-timers moonlighting for the army and preparing for possible deployment overseas in an increasingly hostile world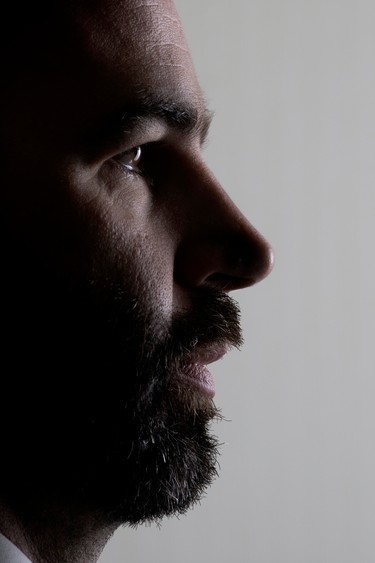 Article content
Adam West is a junior lawyer at Aird & Berlis LLP, a blue-chip, button-down Toronto law firm that's been operating since 1919. His office within the firm denotes his status as a legal grunt, tucked as it is near a bank of filing cabinets, where administrative staff do administrative things while he beavers away on briefs, motions and whatever else the firm's partners have him working on.
Article content
His law degree, from York University's Osgoode Hall Law School three years ago, is framed on the wall of his smallish office space, which used to have an unfettered view of Lake Ontario to the south, but now overlooks a construction site. Several spiral-bound case files are arranged on a bookshelf beneath it.
Article content
But it is the photographs atop the shelf that really catch the eye, and provide visual testimony that West isn't just another legal whiz kid gunning to make partner by 40.
Indeed, he isn't a kid at all. He is 41 and has two kids of his own. But what really sets him apart is a picture showing him in military uniform meeting Queen Elizabeth II, a face-to-face meeting he was so nervous about that he doesn't recall what she said to him, or what, if anything, he may have said back.
Article content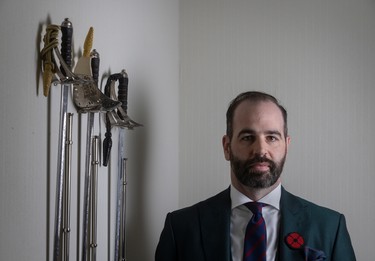 Next to that photo is one of the armoured car that Captain Adam West, as he was once known, was nearly blown up in by a Taliban suicide bomber in Kandahar City, circa 2007. The bomber was incinerated. The soldier and four other Canadians from his platoon walked away unscathed.
"My biggest concern in Afghanistan was losing one of my soldiers," he said. "But we all made it home in one piece."
West's former comrades became teachers, police officers, mechanics, heavy machine operators, supply chain managers and more. Their one-time captain became a junior lawyer, albeit one with a part-time army gig at night, and often weekends, as a lieutenant colonel and commanding officer of the Toronto-based Royal Regiment of Canada, an army reserve unit.
Article content
The lieutenant colonel isn't the only one moonlighting for the army. His unit consists of about 250 other part-timers, but Canada's total reserve army force could fill your average NHL hockey rink. The name of the game is preparing the part-timers for possible deployment overseas in an increasingly hostile world. It is a deadly serious business, in other words, and one made doubly so when the commanding officer is somewhat of a rarity in his unit, having been in combat.
"Starting a new career as a lawyer at 40 meant I was pretty low on the pecking order around here," he said. "But being an army reservist still allows me to be a leader, and that's something I love. Most of us will probably not be in another shooting war. But there is that possibility, and so we have to be prepared for it."
Most of us will probably not be in another shooting war. But there is that possibility, and so we have to be prepared for it

Adam West
West, like the rest of the Bay Street legal crowd, bills his clients by the hour. Depending on the number of hours he works for the army, he charges the government either a half-day or a full-day rate. Tally it all up, and the side hustle amounts to about 60 hours a month, a major time commitment his law-firm bosses are fully supportive of, as long as he successfully pulls off the civilian-and-soldier juggle.
"It is a lot," he said.
Article content
But so is nearly being blown up by the Taliban. If West gets stressed out, he is not the type to show it. Being calm under pressure when others could be excused for freaking out seems to be a common trait among old soldiers.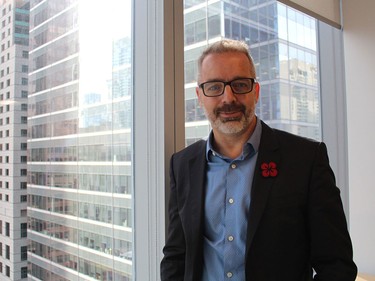 Bob Berube, vice-president of operations at the Bank of Nova Scotia, works in an office tower a stone's throw from West's daytime base. However, he fully retired from army life about a decade ago after 25 years of service.
He was barely out of his teens when he led a platoon of 45 soldiers on a United Nations mission to the Balkans, a region that had erupted into a deadly, conflict-ridden mess following the breakup of the former Yugoslavia.
This was pre-social media, and the situation on the ground was fluid, unknowable and potentially lethal. Berube and his unit came marching into that void. Maintaining morale can be a tricky thing, particularly when facing uncertainty. The key is not to panic, gather the facts, steer clear of making assumptions and, whatever you do, don't arrive at any conclusions until the reality of a situation becomes clear.
"There was a lot of uncertainty when we were about to deploy," he said. "None of us had been to the former Yugoslavia, and we didn't understand the lay of the land."
Article content
It is an anecdote from a past life that Berube shares in the present as an executive at Canada's third-largest bank that in October announced it would be cutting three per cent of its staff. His point? Until all the facts are known, don't panic, don't make assumptions, be curious, ask questions and do your job.
What Berube doesn't mention is that the facts of his one-time job in the former Yugoslavia involved securing Sarajevo airport as part of a humanitarian relief effort, with bullets and bombs flying all around. Fifteen Canadians were wounded in four weeks.
He readily admits his perception of private industry back then was that it was driven by greed, instead of doing good.
Article content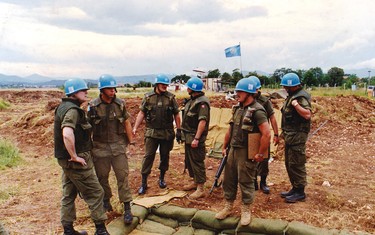 "I was under the impression that the private sector was a cutthroat industry and people were only in it for themselves," he said.
About 50 per cent of veterans only last a year in their first job after the army, Berube said, but he has been with the bank for almost a decade, and said it's because of the culture.
Sure, tellers, call-centre workers, mortgage specialists and wealth managers are all getting paid, and nobody is shooting at them, but a bank only exists if it has customers. Keeping customers happy involves teamwork and a commitment to service, and part of Berube's role in operations is ensuring team Scotiabank stays focused on its mission. It's not quite the same as saving the world, but he clearly enjoys it.
Article content
"My daughter once accused me of going from a somebody to a nobody when I left the military," he said, smiling.
That would make his wife Karine Lachapelle a fellow nobody since the former army intelligence officer now works in risk management for a major Canadian mining company.
West, meanwhile, still puts on a uniform when he ditches the power suit, and he brings all the knowledge of the grizzled, old army veteran to the regiment.
The opposite is true at his law firm. He is the new guy who doesn't really know anything, and he isn't afraid to admit it.
"I had 20 years in the army when I became a lawyer," he said. "But coming into law, you don't even know the simple things, and you get thrown into the unknown."
The legal sector can, however, also be strangely familiar for both former veterans and those who continue to be on duty for their country. Being cool under fire, probing an enemy (a.k.a. opposing counsel) for weaknesses, having an awareness of your own vulnerabilities and being able to pivot on the fly, such as when the judge tosses the team a legal curveball, is combat of a different kind.
"Being a lawyer can be nerve-wracking," West said. "But it is when things are nerve-wracking that they can be the most fun."
• Email: [email protected]
Bookmark our website and support our journalism: Don't miss the business news you need to know — add financialpost.com to your bookmarks and sign up for our newsletters here.
link