Salesforce Service Cloud Review 2022
Salesforce Service Cloud Editor's Score: 88/100
| | |
| --- | --- |
| Pricing | 80 |
| Features | 90 |
| Flexibility | 94 |
| Ease of setup | 90 |
| Support | 85 |
Why Salesforce Service Cloud Is Best for Customization
If you're willing to sign up for an annual contract, you'll pay anywhere between $25 and $300 per user, per month, for a Service Cloud package. These pricing options reflect the vast differences between the various Salesforce Service Cloud packages. Small businesses that want essential omnichannel routing and webchat functionality can choose the most affordable platform. In contrast, enterprise clients needing advanced reporting features and offline access can upgrade to a premium platform.
Many pricing levels are available even if you sign up for the most expensive Unlimited tier. Optional features include partial sandboxing, on-demand agent training and integration with Amazon Connect. We were impressed by how Salesforce Service Cloud's multiple options ensure customized solutions that meet even niche requirements. We especially like the Einstein AI system, which suggests the best recommendations to solve issues or potential problems. Intelligent automation also extends to the drag-and-drop flow builder for approvals and actions.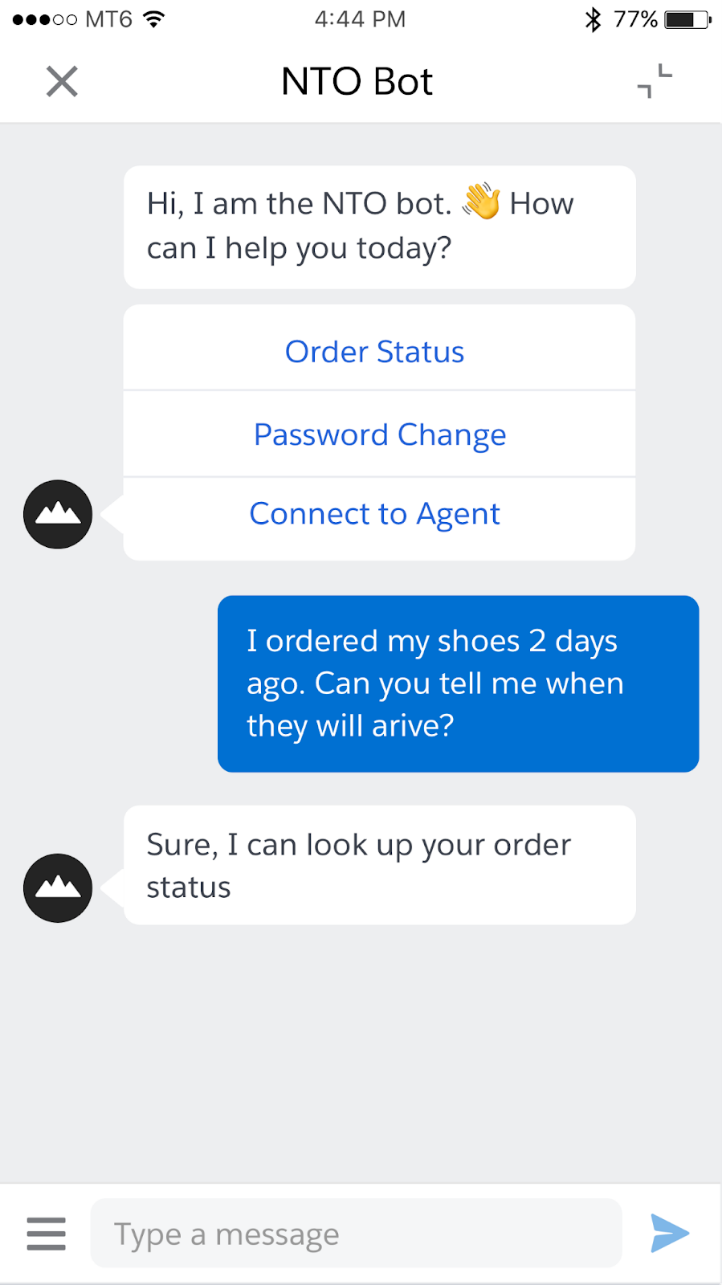 Salesforce Service Cloud's Einstein AI bot conversations can suggest the best recommendations to solve issues or problems. Source: Salesforce Service Cloud.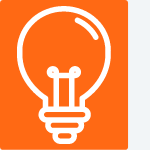 Tip: Check out our in-depth review of Salesforce CRM to learn about this tool that connects your marketing, sales, commerce, service and IT teams with critical customer data.
Pros
Salesforce Service Cloud offers endlessly customizable packages that can grow with your business.
Salesforce has comprehensive online support available.
Salesforce Service Cloud dovetails with other Salesforce utilities.
Cons
Choosing your package can be time-consuming and complicated.
Process automation tools may be beyond less technically minded users.
Usability
The sheer wealth of available Service Cloud features can seem daunting, but the primary interface is reasonably simple to navigate. Agent dashboards place critical information on a single workspace pane, including incident management tools and relevant milestones. When an agent accepts an issue, their dashboard lets them take action, commence guided workflows from third-party systems or request assistance from colleagues and managers.
More advanced functionalities are surprisingly straightforward to set up. For example, we were impressed that guided workflows use a point-and-click interface and reusable building blocks to automate even complex processes. Natural language processing can identify common customer queries and create conversational chatbot support with a few mouse clicks. Similarly, machine learning can facilitate triage workflow before dynamically routing issues to the most appropriate agent or queue. We liked that these functions don't feel like advanced processing ― they're handled visually with no code while broadening Service Cloud's functionality beyond the reach of many competitors.
Salesforce Service Cloud agent dashboard displays routing tools, conversations and contact information. Source: Salesforce Service Cloud.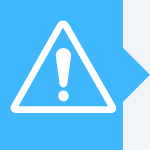 Did you know?: As well as working on desktop computers, the Service Cloud mobile app is compatible with iOS, Android and Windows Phone devices.
Salesforce Service Cloud Features
| | |
| --- | --- |
| Build intelligent chatbots  | Customized bots can schedule appointments, relay automated instructions or hand off more complex inquiries to agents. |
| Handle multiple inbound streams | Service Cloud combines voice, messaging, web, social media and in-app chat input streams into a single agent interface. |
| Personalize agent views | It's possible to build a custom page layout for any use case using drag-and-drop components. |
| Track agent and team efficiency | Prebuilt dashboards track everything from key performance indicators (KPIs) to whether particular channels are being underutilized. |
| Build support into your website or app | Embedded support options mean customers don't have to leave your site or app to contact you. |
| Optional video chat assistance | Upgrading to the Visual Remote Assistant enables video chat assistance. |
Build intelligent chatbots
Artificial intelligence (AI) chatbots can route cases automatically to the best or most appropriate agent or team, depending on their skills and availability. They can also schedule appointments and relay automated instructions. We appreciate how bots encourage self-service by recommending content on a website, portal or mobile app, with analytics tracking the most and least effective solutions.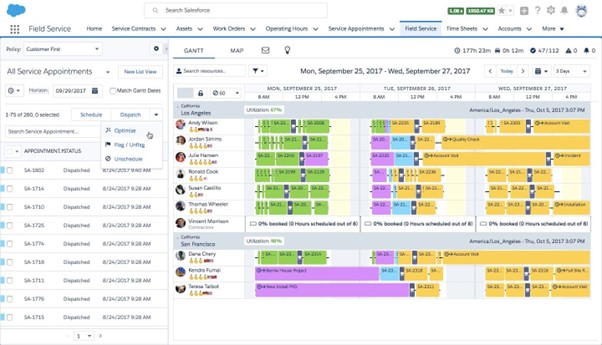 AI bots can set and track field appointments automatically. Source: Salesforce Service Cloud.
Handle multiple inbound streams
Service Cloud covers everything from email to webchat streams. We like that every customer interaction is presented in a chronological timeline in a single-view dashboard, irrespective of how customers initiated contact.
Personalize agent views
If you don't like a generic interface or it's not optimized for your business, you can use a blend of prebuilt and customizable components to build bespoke page layouts using a simple drag-and-drop editor. We appreciate how this functionality ensures that the information agents need is center stage instead of buried in submenus.
Track agent and team efficiency
As an SaaS market leader, we're not surprised that Salesforce Service Cloud performs strongly in terms of setting and measuring KPIs. Customer relationship management (CRM) data can be populated automatically, predictive analytics insights identify issues and churn risks and agents and supervisors can escalate issues from agent dashboards.
Build support into your website or app
Unlike many of its rivals that encourage contact through social media channels or secure messaging apps, Salesforce includes embedded website support, so your customers don't have to leave the website or app they were using. Embedded support includes knowledge articles and live case management tools installed where you want them.
Optional video chat assistance
We really like the Visual Remote Assistant, a paid upgrade to the two most expensive Service Cloud packages. The Visual Remote Assistant offers live interactive video guidance, including annotations and a live pointer. Video streams adapt to the available bandwidth in real time, delivering the highest call quality the connection can support.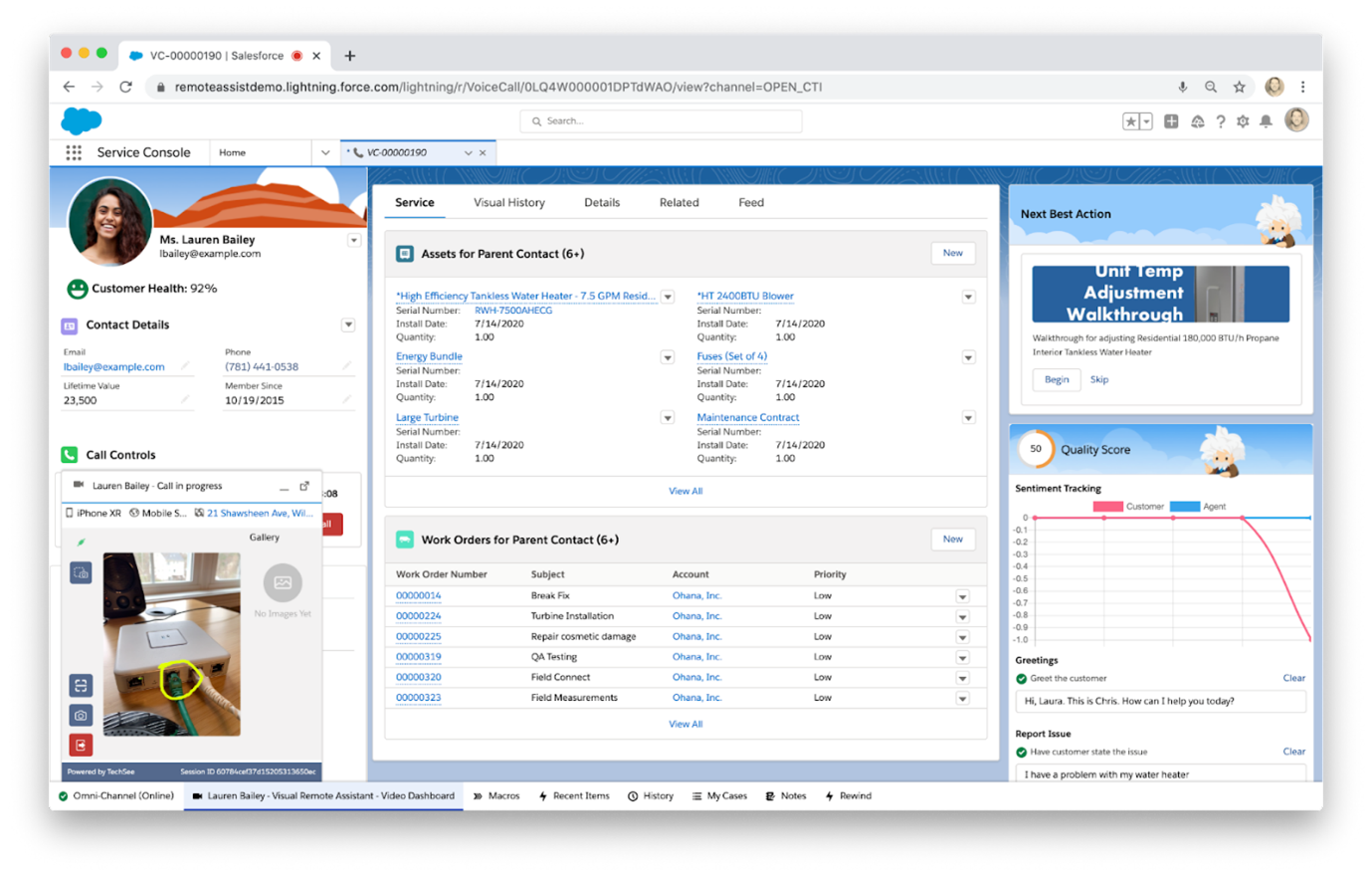 Salesforce Service Cloud's Visual Remote Assistant feature offers live video help with annotations and a pointer. Source: Salesforce Service Cloud.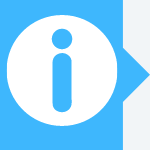 Key takeaway: Service Cloud is an excellent option for companies with an international customer base. Its supported languages include French, Spanish, Portuguese and Japanese.
Salesforce Service Cloud Cost
Unlike some rivals, Salesforce is transparent about its Service Cloud package pricing. However, many of its more advanced functionalities are paid extras customers must negotiate with a sales executive:
Essentials: Prices start at $25 per user, per month, for the Essentials package, which includes a mobile app, customizable reports and dashboards, activity feeds and email and Google Apps integrations, including Google Analytics.
Professional: Professional costs three times as much at $75 per user, per month, and we're not sure features like service contracts and a developer sandbox justify that uptick.
Enterprise: Salesforce describes its $150 Enterprise platform as the most popular option. It includes advanced reporting features, integration via a web service application programming interface and workflow automation. We prefer this tier's feature-cost balance more than the Unlimited package (see below).
Unlimited: The $300 Unlimited package includes several features that are paid upgrades on Enterprise, such as Einstein bots and upgraded Salesforce support. Even at this level, you'll pay extra to access intelligent forecasting, on-demand agent training or integration with Amazon Connect. Our research shows that paying $300 per user, per month, for contact center software far exceeds the most expensive options from rival platforms.
Free trial: We appreciate the presence of a 30-day free trial that doesn't require a credit card or software installation. Compared to the extremely limited trial offered by RingCentral [read our RingCentral review to learn more], the Service Cloud Professional Edition free trial offers preconfigured reports and dashboards alongside online training and guided user experiences. You can even upload your own data.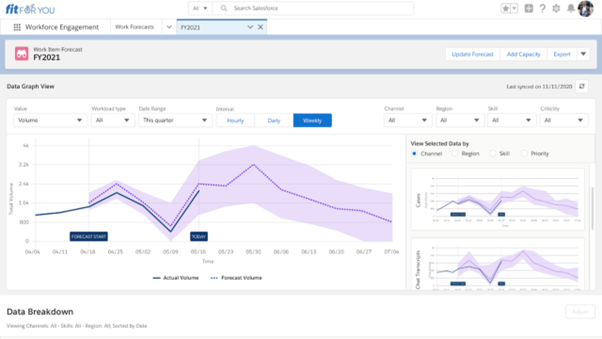 Salesforce Service Cloud includes workforce engagement forecasts. Source: Salesforce Service Cloud.
Salesforce Service Cloud Setup
As is typically the case with cloud-hosted contact center software, Service Cloud turns the physical virtual. On-screen controls govern inbound and outbound calls, internal communication tools and a customizable agent workspace. The software's default setting is fine for beginners, but we suspect most clients will soon find themselves tweaking the available templates, macros and keyboard shortcuts.
Users of other Salesforce solutions, such as the Salesforce Marketing Cloud email marketing platform [read our Salesforce Marketing Cloud review to learn more], will be pleased by Service Cloud's familiar, intuitive interface. To optimize your customization level, Salesforce runs an AppExchange marketplace where you can access thousands of apps to combine with Service Cloud. Only advanced users will truly benefit from this, but we were impressed by the option. It rivals other platforms like Five9 for its sheer number of integrations [Read our Five9 review to learn more].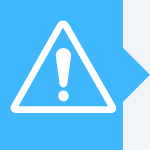 Did you know?: Salesforce Service Cloud's third-party integrations include LiveChat, SurveyMonkey, MindTouch and GetFeedback as well as additional social media integrations.
Salesforce Service Cloud Customer Service
We were impressed by Service Cloud's customer service transparency. Unlike some competitors, Salesforce does not attempt to hide its contact details, prominently displaying a telephone number online. However, 24/7 toll-free support and the Salesforce Knowledge Base are only available to Unlimited account holders.
Live chat support and the ubiquitous online form are augmented with webinars, written guides, company blogs and a thriving online community. The community is a two-way street. Users can recommend improvements to Salesforce software and discuss existing platforms, their limitations and workarounds with knowledgeable fellow users.
Salesforce Service Cloud Drawbacks
While Service Cloud's functionalities are undeniably impressive, we must reiterate that the most expensive Unlimited package costs $300 per user, per month, with more than 20 additional services commanding separate fees, such as service analytics apps and intelligent forecasting. That makes it the most expensive contact center package we've tested. You'd have to want these features to justify their costs.
Service Cloud's functionalities and costs are justifiable if you want to unite your telephone and CRM systems or operate in a sandbox. For everyone else, Service Cloud may seem unduly complex and involved. Many smaller businesses want an out-of-the-box platform ready to go from day one with good technical support. It's worth repeating that 24/7 toll-free telephone support is only available to Unlimited customers, who receive exclusive access to Salesforce-certified experts as part of the Premier Success Plan. Everyone else makes do with the Standard package, which is far less comprehensive.
Service Cloud doesn't offer valuable features found in rival suites, including webinar tools, performance management tools like training and coaching packages, sentiment analysis and advanced analytics. You'll need to explore the broader suite of Salesforce tools or invest in third-party software for these features. For example, an integrated tool called Salesforce Service Cloud Voice provides interactive voice response via an Amazon Connect integration.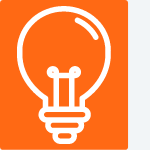 Tip: ffective employee training and coaching can improve the user experience by refining phone etiquette and teaching agents techniques for solving customer issues.
Methodology
When exploring contact center software solutions like Service Cloud, we investigated the capabilities and features of different contact center software, speaking to agents and researching websites and user forums to identify key pros and cons. We prioritized three key areas ― customer support, pricing and available features ― while investigating platform-specific features like Salesforce's Einstein AI system and sandbox capabilities. We also ignored generic attributes like the 99.999 percent service level agreement any contact center software provider should promise to honor.
Salesforce Service Cloud FAQ
Which platforms does Salesforce Service Cloud dovetail with?
The list is extensive, from email and Google Apps to other Salesforce applications like Slack. You can handle omnichannel inputs from short message service, chatbot, phone and messaging platforms, with every interaction from a particular customer displayed chronologically in the agent's dashboard.
What features does the premium Salesforce Service Cloud offer?
Unlimited is the only Service Cloud package to offer premium tech support around the clock, the only one to offer pro sandbox capabilities and the only one with Einstein bots available for customization.
Which other companies use Service Cloud?
The list includes 3M, PayPal, GE Appliances and OneUnited Bank. The Salesforce parent brand boasts a larger array of blue-chip clients ― Coca-Cola, SONOS, Ford, L'Oréal and T-Mobile.
Overall Value
We recommend Salesforce Service Cloud for:
Businesses that want to handle omnichannel inquiries
Companies in niche industries where extensive software customization is vital
Users of existing Salesforce software, such as Slack
Tech-savvy firms that want to sandbox their software
We don't recommend Salesforce Service Cloud for:
Companies that want a simple pricing structure where everything's included
Firms with relatively basic requirements or telephone-only contact centers
Businesses that want 24/7 support without paying for the most expensive package
Read related article: See how Salesforce Service Cloud compares to its rivals in our overview of the best contact center software suites of 2022.
link