Shopify revenue grows amid losses
Shopify says renewed focus on e-commerce sets it up for growth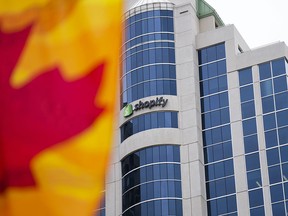 Article content
Shopify Inc. said revenue grew in its second quarter, but it reported a steep loss on the sale of its logistics business and staff layoffs as the company refocuses on its main e-commerce business.
Sales increased 31 per cent to US$1.7 billion for the period ended June 30, the Ottawa-based company reported on Aug. 2. Gross profit rose 27 per cent to US$835 million, but the net loss totalled US$1.3 billion or US$1.02 per share.
Article content
Gross merchandise volume (GMV), the value of goods sold on the e-commerce platform, grew 17 per cent to US$55 billion from the same quarter last year. Revenue and GMV beat analyst expectations by four and three per cent, respectively, ATB Capital Markets Inc. analyst Martin Toner said in a note to clients.
Shopify's stock was down almost 4 per cent at $80.25 this morning on the Toronto Stock Exchange.
Shopify president Harley Finkelstein said in an investors' call that the company's renewed focus on e-commerce has set it up for growth.
"We are already well underway in operating within a new shape of Shopify … that can execute with greater speed and agility on a much larger scale to ship products faster, to bring more merchants onto the platform and further supercharge our merchants' growth for years to come," Finkelstein said.
Shopify offers digital e-commerce tools and platforms for business owners to host online stores. In 2019, the company pursued building a logistics arm to compete with Amazon.com Inc., but did an about-face in May when it announced it would sell Shopify Fulfillment Network to Flexport Inc., a supply chain management and logistics company based in San Francisco.
Article content
The sale led to a US$1.3-billion impairment charge in the quarter and US$148 million in severance payouts after the company laid off 20 per cent of its staff in a second round of layoffs following a 10 per cent reduction in July of last year. Shopify is facing a $130-million class action lawsuit filed by some former employees who claim the company doled out smaller departure packages than initially promised.
The company's renewed focus on core digital products comes after chief executive Tobi Lütke said earlier this year that the company had misjudged the longevity of the pandemic e-commerce boom and hired too many people, while also getting distracted by the logistics business "side quest."
The sale of the logistics business closed two months ago, but Shopify said it is still working through the terms of its agreement with Flexport.
Toner, the analyst, raised his share price target to $95 from $90.
"Shopify is proving that revenue growth is not directly tied to operating expenses, but rather its ability to remain the market leader, and its high-quality business model that is leveraged to merchant success and a growing market," he said. "While the cost reductions are recent, the company remains highly innovative, launching a variety of products so far in 2023."
Article content
Following the most recent layoffs, Shopify has announced more than 100 new products and updates and is venturing into artificial intelligence with Shopify Magic, a suite of "AI-enabled" features integrated in the platform's tech, along with Sidekick, a virtual assistant that's meant to help entrepreneurs grow their business.
Shopify risks reputational damage in layoff dispute

What to know about Shopify's latest layoffs

Shopify targets physical retailers
For the third quarter, management expects revenue to grow at a year-over-year rate of 20 percentage points and gross margin to be two to three percentage points higher than the 49.3 per cent reported in the second quarter.
Operating expenses are expected to be flat, with free cash flow profitability greater than the entire first half of 2023, which was US$183 million.
• Email: [email protected] | Twitter: biancabharti

link