Today's news: Trending business stories for November 6, 2023
The latest business news as it happens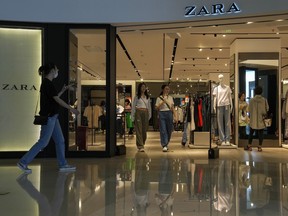 Article content
Today's top headlines:
Article content
---
5:00 p.m.
Market close: Energy weakness weighs on TSX as U.S. stock markets rise
Article content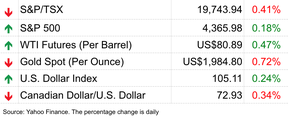 Weakness in energy stocks weighed on Canada's main stock index today, while U.S. markets edged higher to start off the week.
The S&P/TSX composite index closed down 80.91 points at 19,743.94.
In New York, the Dow Jones industrial average was up 34.54 points at 34,095.86. The S&P 500 index was up 7.64 points at 4,365.98, while the Nasdaq composite was up 40.50 points at 13,518.78.
The Canadian dollar traded for 73.12 cents U.S. compared with 73.08 cents U.S. on Friday.
The December crude oil contract was up 31 cents at US$80.82 per barrel and the December natural gas contract was down 25 cents at US$3.26 per mmBTU.
The December gold contract was down US$10.60 at US$1,988.60 an ounce and the December copper contract was up nearly four cents at US$3.72 a pound.
The Canadian Press
---
Here are Monday's top three performers on the TSX:
Telus International (Cda) Inc. ($9.47, 6.64 per cent)
The Vancouver-based company, which provides a variety of internet technology services to clients worldwide, rose Monday after it beat analysts estimates and confirmed its full-year guidance. The last time Telus International reported earnings, its stock plummeted 30 per cent on the miss and has yet to recover. Analysts currently have eight buys, seven holds and no sells on the stock, and an average 12-month price target of $14.98, according to Bloomberg.
Article content
Interfor Corp. ($20.28, 6.29 per cent)
Investors have pushed up shares of lumber company Interfor over the last four trading sessions, helping the stock recoup losses for the year that in late October stood at 18 per cent. Shares rose on Nov. 2 after the Vancouver-based company reported earnings that beat analyst estimates. Interfor got a further boost Monday when TD Securities maintained its buy rating but lowered its price target to $24 from $25. Analysts currently have five buys, no holds and no sells on the stock, and an average 12-month price target of $28.20, according to Bloomberg.
Secure Energy Services Inc. ($8.20, 3.40 per cent)
The Calgary company, which provides processing, recovery, recycling and disposal of energy industry waste, plunged almost 20 per cent in early March after the federal Competition Tribunal ordered it to divest 29 of 103 facilities it bought as part of the acquisition of Tervita Corp. Shares, however, have since found their footing and are up 16.6 per cent on the year. Analysts currently have six buys, two holds and no sells on the stock, and an average 12-month price target of $9.38, according to Bloomberg.
Article content
Gigi Suhanic, Financial Post
---
4:00 p.m.
Italy seizes US$835-million from Airbnb for alleged unpaid taxes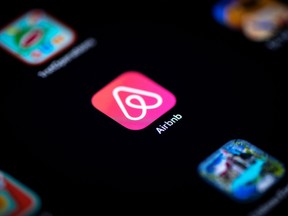 Italy's Finance Police is seizing about €779 million (US$835 million) from the home-sharing company Airbnb Inc. after it allegedly failed to pay some taxes.
Airbnb didn't pay Italy the 21 per cent withholding taxes owed on about €3.7 billion of rental revenue, according to a statement Monday from Milan Tribunal prosecutors. Three people who worked for the San Francisco-based company during that time are under investigation, the statement added.
Airbnb said in its own statement that European staff was in active discussions with the Italian tax agency to resolve this issue since June.
"We are surprised and disappointed at the action announced by the Italian public prosecutor on Monday," said Airbnb spokesman Christopher Nulty. "We are confident that we have acted in full compliance with the law and intend to exercise our rights with respect to this issue."
The move follows an effort by Italian and European authorities to scrutinize the tax practices of global companies. In 2019, Italian prosecutors probed Netflix Inc. after the U.S. streaming company failed to file a return, people familiar with the matter said at that time.
Article content
Earlier this year, Milan prosecutors started investigating Facebook parent company Meta Platforms Inc. for alleged unpaid value-added taxes that totalled about €870 million, people familiar with the matter told Bloomberg last February.
Bloomberg
---
3:52 p.m.
Zara Canada being investigated by ethics watchdog over alleged links to forced labour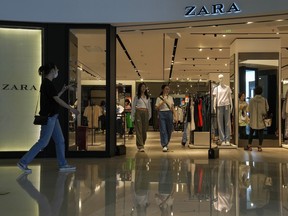 Canada's corporate ethics czar says it has launched a fact-finding investigation into allegations that Zara Canada Inc. is working with companies that use forced labour in China.
The Canadian Ombudsperson for Responsible Enterprise says its investigation into the apparel company stems from allegations made by 28 civil society organizations.
The organizations alleged in June that Zara Canada has supply relationships with three Chinese companies identified as using or benefitting from the use of Uyghur forced labour.
The ombudsperson says Zara Canada has denied the allegations and said the complaint is inadmissible because the alleged human rights abuses do not arise from its operations.
The ombudsperson added Zara Canada declined mediation, saying it does not have a commercial relationship with any factory in the Xinjiang Uyghur Autonomous Region.
Article content
Zara is the eighth company the ombudsperson has investigated for using Uyghur forced labour in its supply chain. Other companies it has looked into include Ralph Lauren Canada LP, Walmart Canada, Hugo Boss Canada Inc., Diesel Canada Inc. and mining company Gobi Man and says more assessments will be made public in the coming weeks.
The Canadian Press
---
3:42 p.m.
Business leaders say halted trade talks harm India and Canada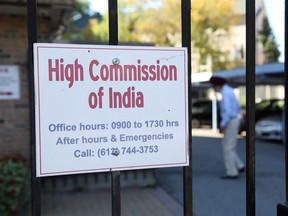 Business leaders continue to grapple with the economic uncertainty fostered by the rift between the Canadian and Indian governments, saying the suspension of free trade talks hurts both sides.
The heads of several commercial groups say the souring relationship marks a major hurdle to boosting bilateral trade beyond last year's $20.9 billion in goods and services and deters Indian students from studying in Canada.
Relations between the two countries eroded after Prime Minister Justin Trudeau told Parliament on Sept. 18 that New Delhi may have been involved in the killing of Canadian citizen Hardeep Singh Nijjar, a Sikh independence activist.
Article content
In response, the Indian government suspended visa services for Canadian citizens — partially restored last month — and revoked diplomatic immunity from Canadian diplomats, prompting two-thirds of them to leave the country.
Canada India Foundation chairman Satish Thakkar says cancelling the trade talks — Canada halted them on Sept. 1 — "doesn't make sense" given the potential loss to both parties, and believes the higher tensions mark the lowest point in Canada-India relations since the 1970s.
Victor Thomas, who heads the Canada-India Business Council, says the resulting uncertainty has derailed some Indian students who were mulling post-secondary education in Canada, a talent pool that makes up the largest slice of the country's international student body at 40 per cent.
The Canadian Press
---
3:00 p.m.
Birkenstock IPO too high, say some of banks that took sandalmaker public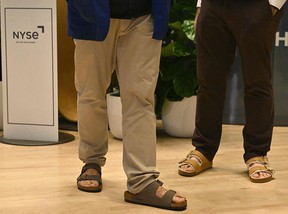 Several banks that helped take Birkenstock Holding PLC public say investors paid too much in its IPO, even as a majority of Wall Street's typically bullish sell-side analysts see upside in the stock.
Article content
That's among the main takeaways from research coverage at firms that underwrote the sandalmaker's October initial public offering, which had one of the worst debuts for a U.S.-listed company to raise more than US$1 billion in the past two decades.
Five banks including Bank of America Corp., Morgan Stanley, and HSBC Holdings PLC had analysts start coverage with 12-month price targets below Birkenstock's US$46 offer price, implying investors are better off putting their money to work elsewhere.
Birkenstock fell more than 20 per cent in its first three days as a public firm before trimming losses roughly in half. Its US$1.5 billion IPO ranks third largest on U.S. exchanges this year but the stock has yet to trade above its offer price.
"A rough trading history will likely be blamed in hindsight on market conditions but also on a punchy valuation range," wrote HSBC analyst Erwan Rambourg in a note.
Bloomberg
---
2:25 p.m.
Trans Mountain pipeline expansion should be in service by end of March: RBC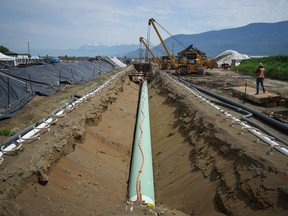 The Trans Mountain pipeline expansion should be in service by March 31, 2024, say RBC analysts who met recently with the chief financial officer of the company building the pipeline.
Article content
Currently, the Trans Mountain expansion is 96-97 per cent complete, their note says, with under 10-kilometres of "admittedly tough pipeline left to construct."
The expanded pipeline is expected to narrow the gap between the price of Western Canadian Select and West Texas Intermediate oil. RBC expects the discount on Canadian crude to fall from around US$25 a barrel to US$17 when more export capacity is available.
Still, the timeline could be upended.
Trans Mountain Corp. was issued a temporary stop-work order on Oct. 25 because of environmental non-compliance related to a wetland near Abbotsford, B.C., The Canadian Press reports.
Gigi Suhanic, Financial Post
---
2:05 p.m.
OMERS acquires 5% indirect stake in MLSE with $546-million Kilmer investment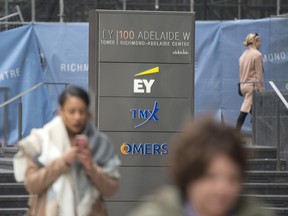 The Ontario Municipal Employees Retirement System (OMERS) is acquiring a five per cent indirect stake in Maple Leaf Food & Entertainment Ltd. (MLSE) with the purchase of a 20 per cent direct stake in Kilmer Sports Inc. (KSI).
OMERS, one of Canada's largest defined benefit plans, bought the stake in KSI, owned by MLSE chair Larry Tanenbaum, for approximately $546.8-million. KSI currently owns 25 per cent of MLSE.
Article content
"As an owner of MLSE, I've always seen myself as a steward of a public trust, working in service to the fans and the public to build Canada's most iconic sports teams and win championships," Tanenbaum said in a press release. "Now with this investment by OMERS, I'm thrilled to be sharing this public trust with over 600,000 hard-working Ontarians. Today is a good day for the future of MLSE."
Tanenbaum will keep an 80 per cent stake in KSI after the deal is finalized and KSI will maintain its 25 per cent stake in MLSE.
Noella Ovid, Financial Post
---
1:22 p.m.
Rogers says family members trying to 'embarrass' firm with lawsuit over board governance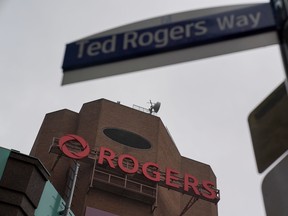 Rogers Communications Inc. fired back at two members of the billionaire family that controls the telecommunications company, calling their lawsuit over board governance issues "self serving" and "without merit."
Melinda Rogers-Hixon and Martha Rogers, the sisters of chair Edward Rogers, filed a court petition last month alleging the company has been "oppressive" to them, and saying that they've been frozen out of board meetings and blocked from getting information.
Article content
In a document filed in a British Columbia court late Friday, the Canadian company responded, saying the two "have a history of disputes" with both the board and their brother and suggested that Rogers-Hixon and Martha Rogers, "in an attempt to embarrass, have deliberately sought to publicize and promote their meritless disputes."
It's the latest salvo in a messy family fight that erupted in 2021 as the sisters and their late mother, Loretta Rogers, publicly battled Edward Rogers for control of the company's board.
Edward Rogers won that fight in court and as a result, five directors of Rogers Communications were fired and replaced by allies of Edward. Shortly after that, he replaced the company's then-chief executive Joe Natale with his own preferred candidate, Tony Staffieri, the former chief financial officer.
The dispute came at the same time as Rogers was attempting to complete its largest acquisition ever, the $20 billion takeover of Shaw Communications Inc.
Court documents filed by Rogers-Hixon and Martha Rogers indicated that in early 2022, family members agreed to temporarily pause their disagreements to avoid negative publicity.
Article content
As part of that truce, the sisters agreed not to participate in board discussions about the Shaw deal or to receive materials on it, because of an argument about Rogers-Hixon's personal lawyer, whose firm also does work for Telus Corp., a competitor to Rogers and Shaw.
The Shaw deal closed on April 3 and the Rogers siblings attempted to resolve their outstanding issues but talks fell apart in September, according to the petition filed by Rogers-Hixon and Martha Rogers.
The sisters said in court filings that they continue to be excluded from some parts of board and committee meetings and are receiving redacted board documents.
In Rogers Communications' court response, the company said Rogers-Hixon's ongoing use of a law firm that also works for Telus has been a stumbling block to the siblings reaching a resolution.
"Given Rogers Communications' significant concerns about the petitioners' conduct, their choice of counsel and the real risk that commercially sensitive information may leak to its competitors, the board has 'rational' and 'justifiable' reasons for limiting disclosure at this time," the filing stated.
Article content
The Rogers court filing also argues that the oppression remedy in Canadian law only applies to shareholders, not directors, and contends that the sisters' rights as shareholders have not been infringed.
Bloomberg
---
12:56 p.m.
MPs to vote on Poilievre's pitch to exempt carbon price from all home heating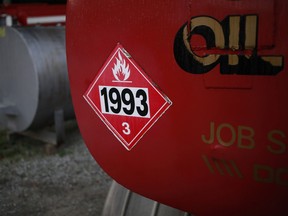 Members of Parliament will vote today on a motion from the federal Conservatives calling for the carbon price to be lifted from all forms of home heating and not just heating oil.
Conservative Leader Pierre Poilievre says the temporary heating oil exemption Prime Minister Justin Trudeau announced last month is divisive.
Poilievre says Trudeau is engaging in regional favouritism in a bid to reverse the Liberals' sluggish poll numbers in Atlantic Canada.
Trudeau says heating oil is much pricier to use than natural gas and that a disproportionate number of households in Atlantic Canada still use heating oil, and need more time to replace their furnaces with heat pumps.
But the Liberals say there are actually more Canadians outside the Atlantic region that use home heating oil but only three Atlantic provinces have signed on to a program to help oil users switch to electric heat pumps.
Article content
The New Democrats plan to vote in favour of Poilievre's motion after failing to convince the Conservatives to push for the GST to be removed from home heating instead.
The Canadian Press
---
12:22 p.m.
Barrick Gold increases stake in Hercules Silver with $23.4-million investment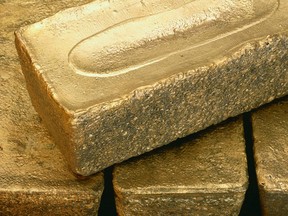 Barrick Gold Corp. has signed a deal to increase its stake in Hercules Silver Corp. to more than 10 per cent with an investment of $23.4 million.
Under the agreement, the gold miner will acquire 21,265,370 units in a non-brokered private placement at a price of $1.10 per unit.
Each unit includes one common share and 0.32 of a common share purchase warrant. Each whole warrant will entitle the holder to acquire one Hercules common share at a price of $1.32 per common share for a period of two years.
Barrick currently owns 5,291,500 common shares of Hercules or a 2.73 per cent stake. Following the private placement, Barrick will hold 26,556,870 common shares of Hercules and 6,804,918 warrants, representing a 12.33 per cent stake in Hercules on a non-diluted basis and 15.02 per cent on a partially diluted basis.
Article content
Hercules is a junior mining company developing the Hercules silver project, northwest of Cambridge, Idaho.
Hercules shares were up 19 cents at $1.12 in late-morning trading on the TSX Venture Exchange.
The Canadian Press
---
12 noon
Midday markets: TSX down slightly, U.S. stocks continue to rise
Losses in technology stocks helped lead Canada's main stock index lower in midday trading, while U.S. stock markets were higher to start the week.
The S&P/TSX composite index was down 0.07 per cent at 19,792.75.
In New York, the Dow Jones industrial average was up 0.19 per cent at 34,128.16. The S&P 500 index was up 0.08 per cent at 4,361.96, while the Nasdaq composite was up 0.29 per cent at 13,514.75.
The Canadian dollar traded for 73.11 cents U.S. compared with 73.08 cents U.S. on Friday.
The December crude oil contract was up US$1.03 at US$81.54 per barrel and the December natural gas contract was down 23 cents at US$3.29 per mmBTU.
The December gold contract was down US$10.00 at US$1,989.20 an ounce and the December copper contract was up three cents at US$3.71 a pound.
The Canadian Press
Article content
---
11:43 a.m.
Tobacco giant increases stake in cannabis company Organigram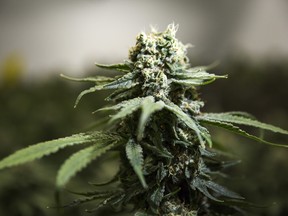 Shares of Organigram Holdings Inc. rose 30 per cent after it says BAT (British American Tobacco PLC) signed a deal to increase its stake in the cannabis company by investing $124.6 million.
The company says it plans to use $83.1 million to create a strategic investment pool to help grow its geographic footprint and invest in emerging growth opportunities. The rest of the money will be used for general corporate purposes.
Organigram says the investment will help it extend its footprint beyond Canada and strengthen its financial position for long-term, sustainable growth.
Under the proposal, which is subject to regulatory and Organigram shareholder approvals and other conditions, BAT has agreed to buy 38,679,525 common shares and non-voting class-A convertible preferred shares over three tranches. The first tranche is expected to close on or around Jan. 16, 2024, followed by two more on or around Aug. 30, 2024 and Feb. 28, 2025.
BAT already holds an 18.8 per cent stake in Organigram. Organigram says the deal will see BAT increase its voting common share ownership stake to 30 per cent and overall equity interest to 45 per cent, including the non-voting class-A preferred shares.
Article content
Organigram shares were up 48 cents at $2.07 in early trading on the Toronto Stock Exchange.
The Canadian Press
---
11:05 a.m.
Billionaire twins cut bet on COVID vaccine maker after 550% gain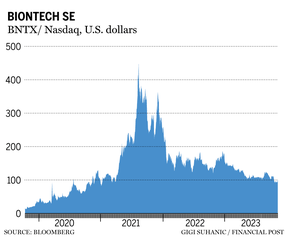 The twin brothers behind one of the world's biggest pharmaceutical fortunes are cutting their major holding in a maker of COVID-19 vaccines as demand for the shot wanes.
An investment firm for Thomas and Andreas Struengmann disclosed sales of about US$110 million of BioNTech SE shares this year and filed last month to offload almost double that sum in one of the billionaires' biggest selling sprees for the New York-listed stock, according to regulatory disclosures.
The brothers, who were seed investors in BioNTech, are still the German company's biggest shareholders with a roughly 43 per cent stake ahead of the upcoming sales. BioNTech partnered with Pfizer Inc. to develop the first COVID vaccine to be approved by the U.S. Food and Drug Administration.
A representative for the 73-year-old Struengmanns — who have a combined net worth of about US$23.4 billion, according to the Bloomberg Billionaires Index – didn't respond to a request for comment. A representative for BioNTech declined to comment.
Article content
The sales show the brothers are increasingly realizing the gains they made from their early bet on BioNTech, which saw its share price boom to record highs during the pandemic.
The company's stock has tumbled since then as demand wanes for the COVID shot, leading it to slash its forecast for this year's vaccine sales by 20 per cent. Still, the brothers are poised to lock in major gains after first providing BioNTech with €150 million (US$186 million) in seed money when it was founded in 2008. The shares have climbed more than 550 per cent since its U.S. initial public offering in 2019, and were up as much as 9.1 per cent Monday after it reported an unexpected profit.
Bloomberg
---
10:46 a.m.
Ontario to require salary ranges be included in job postings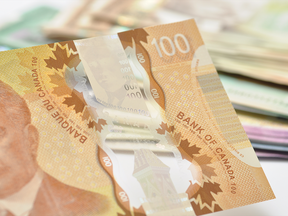 Ontario is planning to require employers to include salary ranges in job postings and disclose if artificial intelligence is used during the hiring process.
Labour Minister David Piccini says those changes will be part of legislation he will soon introduce that will help workers make informed decisions.
He says that including salary ranges in job postings could help close the gender pay gap, as women still earn an average of just 87 cents for every dollar earned by men.
Article content
Piccini is also announcing today that the province is considering banning the use of non-disclosure agreements in cases of workplace sexual harassment, misconduct or violence.
Ontario previously banned the use of NDAs in sexual misconduct cases among post-secondary employees who are looking for work at a different institution.
Members of the Canadian Bar Association voted in favour of discouraging the use of non-disclosure agreements in cases of abuse and harassment.
The government says seven in 10 workers have reported experiencing a form of harassment or violence in their workplace, with the rates even higher for women and gender-diverse people.
"We want to hear from Ontarians and (our) consultations will work with the legal community, survivors, employers to identify those options to restrict the use of NDAs while protecting the rights of victims," Piccini said in an interview.
"NDAs should never be used to silence victims, and those who've done that, their time's up."
The Canadian Press
---
10:17 a.m.
Markets open: Wall Street up, TSX down following last week's rally
Article content
Wall Street steadied after a blockbuster rally, with traders betting the United States Federal Reserve will start cutting rates next year.
After notching its best weekly rally of 2023, the S&P 500 edged only slightly higher. The gauge still headed toward its sixth straight advance in a rebound that's been also attributed to oversold technical conditions and positioning. The beaten-down megacap space drove gains on Monday. Treasury 10-year yields climbed seven basis points to 4.65 per cent, halting a recent slide. The U.S. dollar was little changed.
The Dow Jones Industrial Average was up 0.07 per cent, and the Nasdaq composite was up 0.2 per cent.
In Toronto, the S&P/TSX composite index was down 0.16 per cent.
A raft of Fed officials — including chair Jerome Powell — is slated to speak over the next few days. Traders are pricing in more than 100 basis points of Fed rate cuts by the end of next year from an expected peak rate of 5.37 per cent, swaps data show. They have brought forward their predictions for the first cut to June from July following the November Fed policy decision and the jobs report.
Article content
"Fed is DONE DONE DONE," wrote Andrew Brenner, head of international fixed income at NatAlliance Securities. "June is a done deal for a cut, while the markets are building in four rate cuts for next year — expect the Fed to push back on that, if nothing else for optionality. Powell will try to claw back some of the easing of financial conditions."
The S&P 500's best week in a year was just a bear-market rally, according to Morgan Stanley's top-ranked strategist. Technical and fundamental support is missing, wrote Michael Wilson in a research note Monday. Citing a gloomy earnings outlook, weaker macro data and deteriorating analyst views, "we find it difficult to get more excited about a year-end rally," he added.
Any year-end rally in stocks could prove short-lived because equities don't fully reflect the outlook for rates remaining higher for longer, according to Jean Boivin, who heads the research arm at BlackRock Inc.
The Associated Press, Bloomberg

---
7:55 a.m.
Brookfield raises $26 billion in Q3, on track to bring in $150 billion this year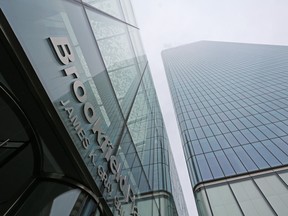 Brookfield Asset Management Ltd. raised US$26 billion in the third quarter and said it's on track to bring in close to US$150 billion in fresh capital this year, despite a tough fundraising environment.
Article content
"2023 is shaping up to be an excellent year for capital raising, which sets the stage next year for excellent earnings and dividend growth," president Connor Teskey said in a statement Monday. About US$11 billion came into Oaktree funds.
The Toronto-based alternative asset manager posted distributable earnings of US$568 million in the quarter, up eight per cent from the prior year, according to the statement.
Fee-bearing capital, a measure of the money the firm is raising for third parties, was US$440 billion at the end of September, the same as three months earlier. It has a goal of getting to US$1 trillion by 2028.
The firm, which handles about US$850 billion of assets including those owned by its parent, Brookfield Corp., has been one of the world's most active investment firms this year, even as many of its peers have remained on the sidelines in a quiet spell for mergers and acquisitions.
Brookfield has raised US$61 billion since the beginning of the year, Teskey said, giving it US$102 billion of dry powder available to deploy.
Its most recent deals include an agreement to buy most of the assets of bankrupt data centre firm Cyxtera Technologies Inc. for US$775 million, and Dubai-based credit card processor Network International Holdings PLC for about £2.2 billion (US$2.7 billion).
Article content
The Canadian firm's efforts to buy Origin Energy Ltd. hit a snag after top shareholder AustralianSuper rejected the offer.
Layan Odeh, Bloomberg
---
7:30 a.m.
Montreal home sales fall 2% in October, prices rise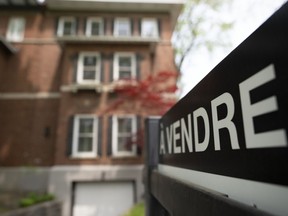 The Quebec Professional Association of Real Estate Brokers say home sales in the Montreal area in October fell two per cent compared with the same month last year to their second-lowest level since it began compiling market data in 2000.
The association says Montreal home sales totalled 2,675 in October, down from 2,740 a year earlier.
Single-family home sales totalled 1,347 in October, down six per cent compared with 1,438 in the same period last year, while condominium sales amounted to 1,018 transactions compared with 1,021 in October 2022.
Plex sales rose 10 per cent to 307 sales compared with 279 sales of the small income properties a year earlier.
Active listings rose to 17,518 in October, a gain of 12 per cent from 15,708 a year ago, while new listings climbed 10 per cent to 5,816 compared with 5,306 a year earlier.
The association says the median price of a single family home was $545,000, up from $510,000 a year ago, while the median price for a condominium was $390,000, up from $380,000 a year ago. The median plex price was $735,000, up from $700,000 in October 2022.
Article content
The Canadian Press
---
Before the opening bell: Stocks hold onto gains after last week's rally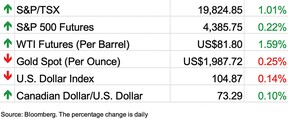 Stock and bond markets steadied after last week's blockbuster rally, with traders still optimistic that United States and European central banks may start cutting interest rates as soon as next year.
Europe's Stoxx 600 index paused after recent gains and U.S. futures added about 0.2 per cent. Asian markets earlier jumped, with South Korea's Kospi finishing more than five per cent higher after regulators banned short selling. The dollar fell for a fourth day. Crude futures rose more than 1.5 per cent after Saudi Arabia and Russia reaffirmed they will stick with their supply curbs through year-end.
Global equity markets are finding firmer footing after recent U.S. data pointed to a cooling economy, leading traders to price lower rates by June. Ten-year Treasury yields, the benchmark rate for the global cost of capital, edged higher Monday, having slid in recent weeks from the 16-year highs touched last month.
"A better-than-expected U.S. earnings season and the peak in interest rates are all pointing towards a year-end rally," said Leonardo Pellandini, an equity strategist at Bank Julius Baer in Zurich.
Article content
In Canada, the S&P/TSX composite index closed higher Friday, up 198.51 points to 19,824.85. Still, the energy index was down 1.57 per cent.
Bloomberg
---
What to watch today
The Bank of Canada will release its Markets Participants Survey for the third quarter at 10:30 a.m. The central bank survey financial markets participants for their views on macroeconomic and financial variables, along with monetary policy.
The 22nd annual Canadian Telecom Summit takes place today in Mississauga, Ont. This year's theme is "Breaking Barriers — Collaboration for Accelerated Digital Innovation Across Telecom, Enterprise, and Society."
The Empire Club will host a talk in Toronto with Restaurant Brands International Inc. executives Axel Schwan and Duncan Fulton.
Data releases from the United States include the global supply chain pressure index for October and the senior loan officer opinion survey.
On the earnings front, expect reports from Brookfield Asset Management Ltd., Cargojet Inc., Ivanhoe Mines and MEG Energy Ltd.
Related Stories
More staff cuts to come for Canadian banks

Finding the best mortgage to ride out the storm
Need a refresher on Friday's top headlines? Get caught up here.
Additional reporting by The Canadian Press, Associated Press and Bloomberg
---
Bookmark our website and support our journalism: Don't miss the business news you need to know — add financialpost.com to your bookmarks and sign up for our newsletters here.
link