UM Today | Asper School of Business
June 14, 2023 — 
The Asper School of Business will launch a new Bachelor of Commerce (Honours) curriculum, beginning in Fall 2023. Developed by the Asper School's Undergraduate Review Committee, the new curriculum will prepare students to face the dynamic landscape of business—to anticipate emerging issues and innovations while responding to existing problems.
In 2019, the Committee began a thorough review of what and how students learn in their undergraduate degree. They held focus groups with members of the Manitoba business community, including sessions with Indigenous businesses and third- and fourth-year Asper students and surveyed the core undergraduate curricula of top Canadian business schools.
Asper's Committee on Indigenous Business Scholarship (CIBS) hosted a focus group with Indigenous business students, which the Undergraduate Review Committee also attended. The result of this extensive review and approval process is a new, forward-looking BComm curriculum.
"This curriculum brings the Asper School of Business to the forefront of business education," says Bruno Silvestre, Dean of the Asper School of Business. "It provides students with a modernized, well-rounded business degree. The new required courses will enhance their awareness of pressing topics relevant to business in Manitoba while sharpening their practical skills and competencies."
A new core course is Indigenous Peoples and Canadian Business. In the course, students will learn about the past, present and future of Indigenous peoples and settler society, and how this history shapes Indigenous business and economic development today. Asper is now is one of the first business schools in Canada to offer a required Indigenous Business course, designed and delivered from within the faculty.
Katherine Davis [MBA/20], Instructor of Indigenous Business Relations at Asper, will teach the new course. She speaks to the importance of teaching Indigenous business to reassert its history and advance reconciliation.
"Indigenous business pre-dates Canadian business. First Nations, Métis and Inuit people participated in commerce well before the establishment of what is now called Canada," she says. "There is no reconciliation in Canada without economic reconciliation for Indigenous Nations."
Manitoba records the highest population of Indigenous people (18.1% in 2021) among the Canadian provinces, and across Canada more Indigenous youth are completing high school and considering post-secondary education. A strong community of Indigenous-led businesses and network of Indigenous Nations are part of an emerging $32 billion Indigenous economy in Canada.  
"Business schools have a responsibility to prepare students with the knowledge, understanding and skills to lead and advance reconciliation and improve relationships between Indigenous and non-Indigenous peoples," says Davis.
New core courses also include Sustainable Business and Introduction to Business Analytics, each geared to meet the needs of contemporary business.
These core courses will offer students a foundation of knowledge that they can take into each subsequent learning opportunity at Asper, encouraging an integrated, cumulative approach to their learning that reflects real-world applications of business today.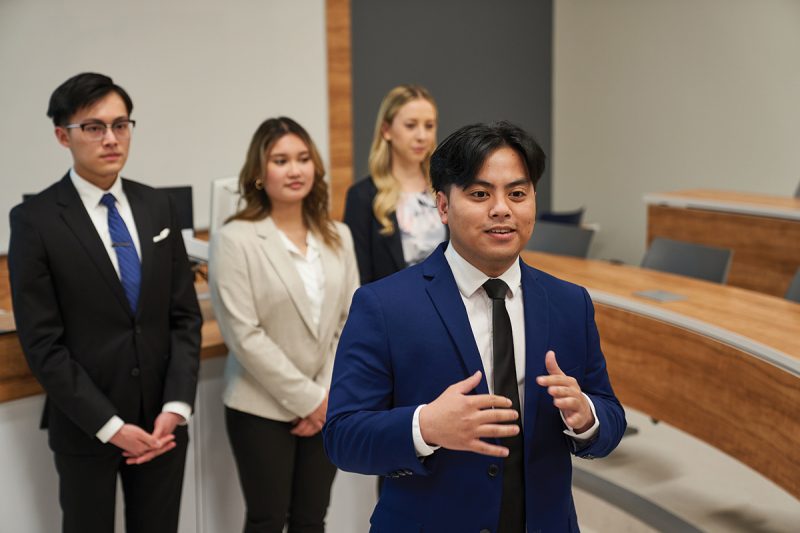 Sustainability in business, for instance, is no longer an alternative approach to management, and research led by Asper professors has demonstrated that students who learn multiple approaches to management become better critical and ethical thinkers. Likewise, business analytics is an in-demand focus that will also broadly develop students' analytical, numerical and technological skills.
In response to stakeholder feedback, students will benefit from a suite of new 1.5 credit-hour courses designed to sharpen practical skills. These courses include Writing Skills for Business, Introduction to Project Management, Data Software for Business and Communication for Career Management.
With increased flexibility for elective courses and more time to declare majors, the new curriculum allows students to explore their interests, from agriculture or engineering to law or science. Students will learn from day one how to apply their business degree to different sectors.
As the only AACSB-accredited business program in Manitoba, the Asper School of Business meets the highest global standards of excellence in teaching, research, learner success and curriculum and is committed to balancing the needs unique to our local business economy with the competencies of a world-class business degree.
The new curriculum is designed to enhance and enrich the Asper School of Business: to provide students, our future business leaders, with a modernized, well-rounded degree that prepares them for their career and to advance thoughtful and ethical leadership in business and education.
link