Why Canadian banks are cutting jobs
More layoffs to come as banks deal with challenging economic environment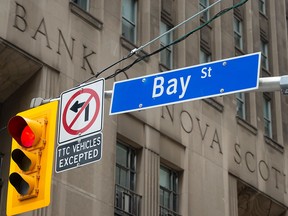 Article content
A number of major Canadian and U.S. banks have announced job cuts in recent weeks, with some warning of more layoffs to come as financial institutions deal with a challenging economic environment.
Which companies are cutting?
Article content
On Oct. 19, Desjardins Group said it was cutting nearly 400 jobs, or 0.6 per cent of its workforce, mainly from its Montreal and Lévis, Que., offices, citing a need to trim costs amid inflation pressures and the economic slowdown.
Article content
"The current economic context (volatility, inflation, slowdown, etc.) adds an additional pressure that leads us to have a healthy and prudent management," Desjardins spokesperson Jean-Benoît Turcotti said.
The job cuts at Desjardins came a day after Bank of Nova Scotia announced it was reducing its global workforce by three per cent.
Scotiabank said the reductions, which amount to about 2,700 jobs based on the Canadian bank's total staff of 91,013 employees as of July 31, were due to changes to its operations and customers' preferences, as well as ongoing efforts to streamline operations.
A month prior, BMO Financial Group said the closure of its retail auto finance business will trigger an unspecified number of layoffs in Canada and the United States.
Bank of Montreal said the move was made to reroute resources to areas where it was more competitive. The bank's provisions for credit losses in its retail line rose 800 per cent to $81 million last quarter from $9 million the year before.
Royal Bank of Canada also announced more job cuts in its capital markets operations on Sept. 20, part of broader reductions announced in August that may climb above 1,000 positions and are aimed at helping the bank deal with a challenging economic environment.
Article content
Those cuts are on top of reductions announced in August, when RBC said it would cut as much as two per cent of its full-time equivalent staff after a surge in expenses weighed on third-quarter results.
What about on Wall Street?

The cuts aren't just coming in Canada. A report from CNBC earlier in October calculated that the six largest U.S. banks, aside from JPMorgan Chase, have cut a combined 20,000 positions so far this year, according to company filings.
The deepest reductions have been at Wells Fargo and Goldman Sachs, which have cut roughly five per cent of their respective workforces.
Citigroup Inc., meanwhile, has cut about 7,000 positions so far this year, CFO Mark Mason said during the third-quarter earnings call, according to Bloomberg, and Morgan Stanley has said it is eliminating 3,000 jobs globally.
Why is this happening?
A decline in profit margins amid the tough broader macroeconomic environment have led the Canadian banks in particular to reduce expenses, mainly by cutting staff, said Nigel D'Souza, a financial services analyst at Veritas Investment Research Corp.
Article content
An increase in funding costs, slower growth, elevated expenses and a normalization of credit losses are among the factors that have lowered profit margins, he said, adding that these headwinds have existed since the start of 2023.
"As broader macroeconomic headwinds remain intact for Canadian banks, we can expect to see those trends to continue," he said.
Related Stories
Scotiabank to cut 3% of global workforce

Turmoil shows Laurentian Bank's history is catching up with it

Commercial real estate lending seen as bigger risk than thought
Where are the cuts being made?
The job cuts tend to focus on capital markets divisions, which typically have a higher portion of variable compensation, D'Souza said.
Revenues from these divisions are tied to financial market conditions, which have been rocky this year.
"(However), it's hard to say exactly where we'll see those reductions going forward," D'Souza added, saying he wouldn't be surprised to see a head count reduction continue across the banks.
Scotiabank said its cuts were the result of digitization and automation, but D'Souza said that is not what is happening overall.
Most of the layoffs in the banking sector have been driven by the economic and financial market environment, he said.
• Email: [email protected]
Bookmark our website and support our journalism: Don't miss the business news you need to know — add financialpost.com to your bookmarks and sign up for our newsletters here.
link