Zenefits Review 2022 | Best HR Software
Zenefits Editor's Score: 91/100
| | |
| --- | --- |
| Features | 90 |
| Pricing | 90 |
| User interface | 100 |
| Integrations | 100 |
| Customer service | 75 |
Why Zenefits Is Best for Benefits Administration
While some HR software tools treat benefits as an add-on or afterthought, it is one of Zenefits' standout features. We liked that Zenefits provides tools for businesses that need help shopping for plans for their employees and those that just want tools to administer their current offerings more effectively. Zenefits provides tools for administering health, dental and vision insurance, as well as additional benefits such as flexible spending accounts, employee retirement plans and employee wellness benefits. The Zenefits benefits selection process is also very user-friendly for employees, making a complex process seamless.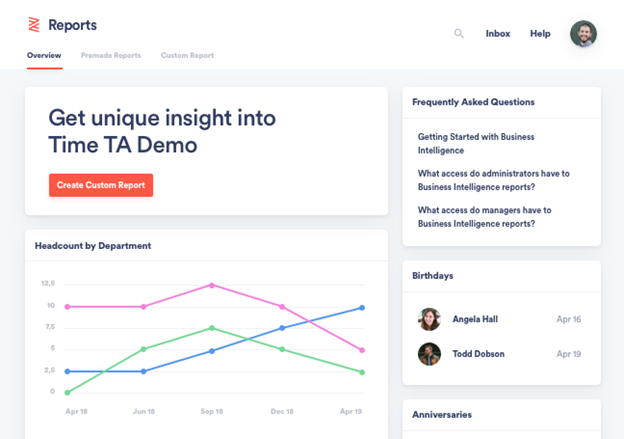 Zenefits displays benefits options and costs in a user-friendly manner for employees. Credit: Zenefits
Pros
Zenefits allows companies to shop for plans through the platform or integrate their own offerings.
The Zenefits benefits administration tools are very user-friendly for both administrators and employees.
The company's pricing structure is more transparent than that of many competing vendors.
Cons
Businesses must pay for at least five employees, even if they have fewer employees at the time of enrollment.
The customer service experience has received mixed reviews from account holders.
Usability
We found the Zenefits platform to be very user-friendly and intuitive. The Zenefits homepage provides an overview of your current tasks, alerts and team members. The task list makes it easy for both managers and employees to keep up with any required paperwork, benefits enrollment deadlines and performance management activities.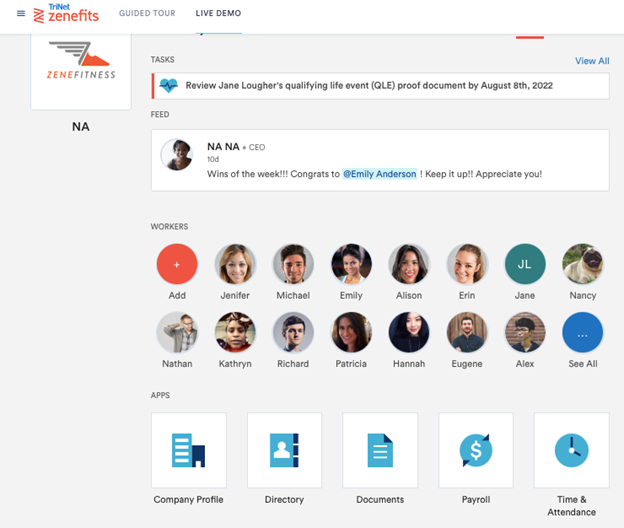 The Zenefits dashboard displays your alerts and team members, and it includes links to different apps within the platform. Credit: Zenefits
The homepage also includes a menu of apps within the platform that allow administrators or employees to quickly access benefits information, time-off balances, flexible spending account information, performance management tools and an employee directory. This layout is very visual and easily navigable with accessibility tools such as VoiceOver. The visual layout makes it easy for new hires to become familiar with all of the functions of the platform.
The apps themselves, including the benefits enrollment tools, are similarly user-friendly. We liked that although the platform's features are expansive, navigating and learning the platform will not be overwhelming to a new employee. Onboarding tasks appear at the top of the homepage as tasks that the employee can work through. Many of the tasks can also be sent along with the offer letter so that new hires can complete their paperwork in advance.
If you want to test out the platform yourself, create a free demo account with Zenefits to take a guided tour or watch a live demo. You can see how benefits, payroll, reporting, performance management and other major features work.
Zenefits Features
| | |
| --- | --- |
| Benefits administration | Offer a robust benefits package to your employees with Zenefits' wide range of offerings. |
| Payroll | Process payroll seamlessly with unlimited payroll runs and integrated features. |
| Onboarding | Customize and automate your organization's employee onboarding process. |
| Performance management | Gather feedback, set goals and complete performance reviews. |
| PTO tracking | Track paid time off balances and process time off requests in the Zenefits platform. |
| Compensation management | Review compensation metrics to ensure that employees are fairly compensated. |
Benefits Administration
If your business is looking to offer employee benefits for the first time or upgrade its benefits package, Zenefits can help. Zenefits has certified brokers and can offer employee benefits like medical, dental and vision insurance; health savings accounts (HSAs) and flexible spending accounts (FSAs); commuter benefits; 401(k) retirement plans; life and disability insurance; and supplemental benefits. You can also use your own benefits broker, but it will cost you an additional $5 per employee per month.
When testing the Zenefits platform, we enjoyed how the platform was tailored to these benefits. From the homepage, it is very easy for employees to navigate to the different benefits apps for their insurance, FSA and 401(k) plans, as well as to review their benefits selections, make changes or submit claims within the platform.
Payroll
For an additional fee, Zenefits can manage payroll for employees and contractors. Zenefits' payroll app syncs with other features within the platform, including time tracking and benefits administration, to accurately manage benefits deductions and ensure that employees are paid for the hours that they work. Zenefits also automatically calculates and files payroll taxes. There is no cap on the number of payroll runs per month. For more information on Zenefits payroll and the best payroll software on the market for small businesses, visit our best picks page.
Onboarding
Employers can create a customized onboarding process and then automate their onboarding for new hires. Everything from sending the offer letter to completing their paperwork can be completed quickly with the Zenefits onboarding process, enabling new hires to hit the ground running on their first day rather than spending time filling out forms. Their onboarding process is also mobile-friendly on the employee end.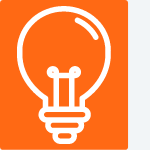 Tip: With Zenefits, new-hire paperwork can be completed in as little as 10 minutes and before a new hire begins working.
Performance Management
Zenefits offers fairly extensive performance management tools. Conducting a performance review can go beyond manager feedback with peer feedback and self-assessment tools. There are also wellness and employee engagement survey tools.
One feature that we found unique while testing Zenefits was the goal-setting options. Most of the competitors do offer goal tracking, but most were not as thorough as Zenefits'. Administrators can set goals at a company, department or individual level. We really liked this option, as it allows individual goals to be tied to companywide business goals or department goals. It also allows teams to work together toward goals.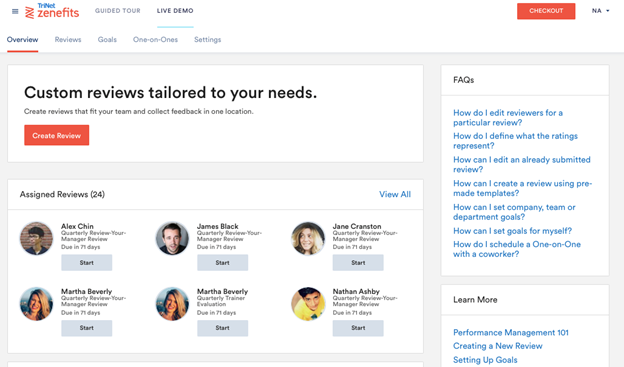 Employers can use Zenefits to assign reviews and feedback tasks to different managers of team members to collect 360-degree feedback for performance reviews. Credit: Zenefits
PTO Tracking
The PTO-tracking features are customizable based on your organization's time-off policies. We like that employers have the option of allowing unpaid time-off requests or letting employees go into the negative on their PTO balances if allowed by your company policy. We also like that employers could have multiple time-off policies created in the system to account for different accrual rates or policies for different seniority or employee levels. The request and approval processes were very simple and quick.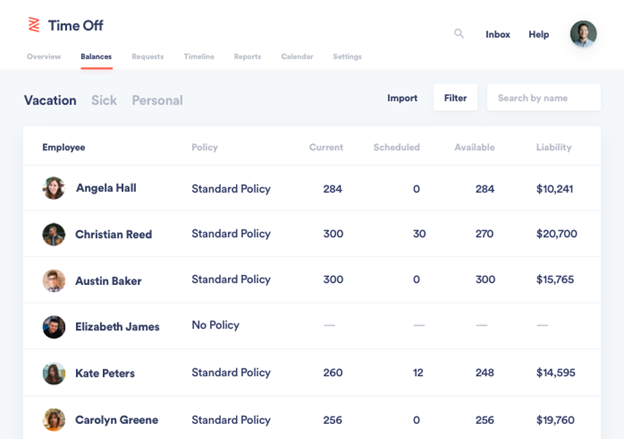 Zenefits allows organizations to track time-off balances based on customizable time-off policies. Credit: Zenefits
Compensation Management
Zenefits also offers compensation management tools and reporting designed to help organizations keep a close eye on employee compensation. We really liked that the reporting also supported compensation analysis from a diversity, equity and inclusion (DE&I) perspective. Organizations could view compensation data by gender or race to identify areas of potential inequality. Since many organizations have been taking DE&I and pay equality more seriously in recent years, we thought these tools would be beneficial to many small businesses.
We also liked the market comparison tool, which compares the current salaries of employees to market rates. Since paying below-market rates can lead to increased employee turnover, we felt that this would be a useful tool for organizations trying to remain competitive, especially in the wake of the Great Resignation.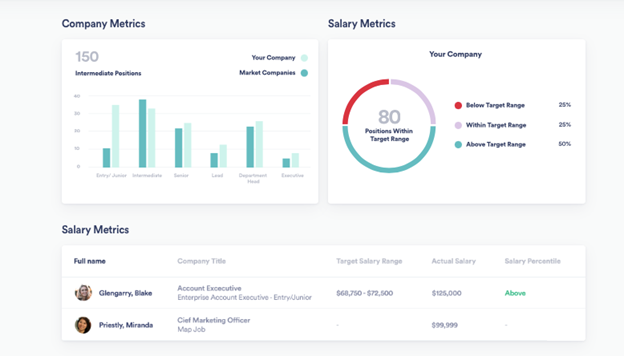 The compensation features support salary benchmarking, DE&I comparisons and other salary metrics. Credit: Zenefits
Zenefits Pricing
We liked that Zenefits offers a clear and transparent pricing structure. Many competitors require business owners to contact a sales agent for a customized quote. This can be frustrating for small businesses that simply want to know whether the software is within their budget. We also liked that they offer a free trial, as many competitors do not.
Zenefits offers the following packages:
Essentials: For $8 per employee per month (billed annually) or $10 per employee per month (billed monthly), this package provides access to onboarding, employee management, time-off tracking and scheduling tools. It also includes access to integrations and the Zenefits mobile app.
Growth: For $14 per employee per month (billed annually) or $18 per employee per month (billed monthly), businesses can get everything in the Essentials plan, plus the compensation management and performance management features.
Zen: For $21 per employee per month (billed annually) or $27 per employee per month (billed monthly), businesses can get everything in the Growth plan, plus employee well-being and employee engagement surveys as well as people hub features.
Zenefits also offers the following add-ons:
Payroll: $6 per employee per month
Advisory services: $8 per employee per month (billed annually) or $10 per employee per month (billed monthly)
Benefits administration using your own broker: $5 per employee per month
Zenefits also offers a free 14-day trial that features a live demo with sample HR information. This is a good option for business owners who want to test out the platform before committing to a subscription.
Setup
Zenefits offers both self-service and guided setup options. The self-service implementation method provides you with a series of tasks to complete within your Zenefits account. Once the tasks are completed, you can start using Zenefits. The Guided Implementation Process provides you with a dedicated Implementation Manager who will assist with your company's onboarding, map out an action plan and help you set up all of your Zenefits apps. The guided process is designed for larger businesses.
Zenefits' setup timeline can vary significantly based on the size of your company and the features that you will be utilizing. Zenefits states that the setup process may take only a few hours. However, implementation typically takes a few weeks for large companies, especially those that need data migration support.
Companies will need to provide Zenefits with their employee information and company policies during the implementation stage so they can be imported into the platform. Zenefits supports bulk uploading of employee data for efficient creation of individual employee profiles. If your business already has benefits plans in place, that information will also need to be provided and imported.
Customer Service
Zenefits offers support by email, phone and web chat during their business hours of 7 a.m. to 4 p.m. PT, Monday through Friday. We like that their hours skew a bit earlier than some of the other West Coast competitors that open at 8 a.m. or 9 a.m. PT. The earlier hours are helpful for East Coast businesses that want access to support in the morning.
Zenefits also offers fairly comprehensive self-training resources, including a help center with detailed articles and training videos. New users can even enroll in virtual instructor-led courses to access hands-on learning, an especially helpful feature for teams that want to make sure they can navigate the system effectively.
Drawbacks
One drawback to keep in mind is that the performance management and employee survey features are available with higher-level plans only. While we were impressed with Zenefits' performance management tools, this can make the service more costly than the competition due to the need to upgrade to an enhanced plan. Payroll is also an add-on that costs extra. This is worth keeping in mind, as many competitors offer similar tools in their base-level plan and may be more affordable. If performance management is important to you, check out our BambooHR software review to see our top choice for performance management functionality.
Many reviews from current Zenefits subscribers mention customer service as a pain point. It does offer chat, email and phone support from 7 a.m. to 4 p.m. PT. We found the support response times to be about average while inquiring about platform features and asking general questions. However, we cannot speak to the support offered to current account holders who reach out with specific account questions or issues. Some small businesses also may struggle with the self-service aspect of the setup and implementation process.
Methodology
We conducted comprehensive research and analyzed dozens of HR systems to identify the top HR software solutions on the market. We reviewed product videos and utilized the available live demo to test Zenefits. When looking for the best HR software for benefits administration specifically, we prioritized features such as onboarding and implementation, payroll processing, benefits administration, usability, integrations, reporting and customer service.
Zenefits FAQ
What is Zenefits software used for?
Zenefits provides an all-in-one HR software solution for benefits administration, timekeeping, payroll and performance management.
Is there an employee minimum to use Zenefits?
Zenefits' plans have a minimum requirement of five employees. Businesses that have fewer than five employees may enroll in Zenefits, but they will be charged for five employees for each of the products and services they select.
Is Zenefits a PEO?
Zenefits is not a PEO. Zenefits is an all-in-one HR software platform. However, Zenefits is owned by TriNet, which does offer a PEO service.
Overall Value
We recommend Zenefits for …
Businesses that want to start offering employee benefits.
Midsize businesses that want multilevel goal-setting and performance management tools.
Companies that want transparent and standardized pricing rather than customized packages.
We do not recommend Zenefits for …
Very small businesses with fewer than five employees.
Small businesses that do not offer employee benefits (such as those with fewer than 50 employees that are not subject to the ACA requirement to offer health insurance).
Businesses that will need more frequent and prompt support, such as those without an internal HR or IT team member.
link